What an honour to be asked to judge this years textile competition.
Students were challenged to showcase their skills in business, marketing, and merchandising by creating a business concept of a hypothetical new apparel line that redesigns apparel items (leggings, t-shirts, etc.) for children (ages 2-10) with special needs and/or a disability. See the full competition guidelines for more details.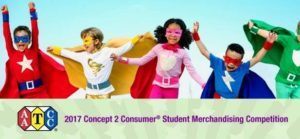 It wasn't easy choosing a winner, but here they are.
1st Place– Moxie by Alexis Jones, Central Michigan University. (US$1000, $200 from TÜV Rheinland, $200 from Jefferies Socks, $50 gift certificate to Socks in Stock, and a paid summer online marketing Internship atJefferies Socks)
2nd Place– Kids in Motion by Caroline DeRosa, University of Delaware. (US$750, $100 from TÜV Rheinland, $100 from Jefferies Socks, and a $50 gift certificate to Socks in Stock)
Honorable Mention–  Smiley Willy by Lauren Ferrell and Hanna Jernigan, North Carolina State University. (US$250, $100 from TÜV Rheinland, and a $50 gift certificate to Socks in Stock)
AATCC would like to extend appreciation to the following developers and judges. Without their expertise and assistance, the Competition would not have been possible.
Developers:
Muditha Senanayake, Associate Professor at California State Polytechnic University Pomona
Mary Ruppert-Stroescu, Assistant Professor, Design, Housing and Merchandising Oklahoma State University
Sandy Johnson, Director of Sales at Color Solutions International/Dystar
Kerry King, Vice President, R&D at Spoonflower, Inc.
Mark Sunderland, Director Academic Operations/Textile Engineer+ Strategist, Philadelphia University
Mary Brannon, Apparel Technology Coordinator at Fashion Institute of Design & Merchandising
Judges:
Alyssa McNamara, Research & Development at Spoonflower, Inc
Claudia Romero, Managing Director at CAPR-STYLE LTD
Craig Crawford, King of Creative at Crawford IT
Emily Coleman, Designer/Merchandise Manager at Jeffries Socks
Kristie Rhodes, Manager, Product Development at Cotton Incorporated
Lauren Dalton, Product Integrity Manager at Zulily
Susan Matter, Product Integrity Manager at Nordstrom Product Group