Retail crisis management is hitting road blocks but why? We've certainly faced enough in my life time.
We braved The Bird Flu (H5N1) when establishing the world's largest network of computer aided design for textile development and manufacturing in the late 1990s. (I recall one poor co-worker being prevented from boarding the plane from Hong Kong to New York because the temperature taking technology flagged him as a risk. It turns out he had had one too many cocktails in the airline lounge!)
The Sept 11, 2001 or 9/11 attacks practically ground NY to a halt changing the world forever. We set up Product Data Management (PDM) and then Product Lifecycle Management (PLM) systems globally. (We relocated from our NY headquarters to our New Jersey offices during that crisis).
Then we were up against SARS as we travelled to set up Colour Development systems in our Asia Offices in the early 2000s.
By April of 2010, here in London (and most of Europe) the volcanic ash from Iceland's volcano Eyjafjallajökull stopped us from flying for about a week.
And the recent Trump vs China tariff wars had us all manically shifting manufacturing to other countries mid-production.
Now we're up against the Coronavirus crisis.
Let's face it. Shit happens. And it always will. Monsoons, warehouse fires, and other business interruptions are going to occur. In fact, managing a crisis as a business as usual should be in our DNA. But it isn't. Yet it can be.
It's our agility in how we cope and deal with these threats that separate those who continue to succeed from those who flap and flounder to cut losses and retreat.
But everyone can succeed. A strong digital product design, development and supply chain eco-system enables us to manage business continuity during uncertainty and chaos.
Today's technology is capable of providing us with real-time data analytics that support sound decision making.
We are in an exciting period of rapid tech advances that allow us to manage chaos rather than just react to it. And a handful of strategic pioneers are beginning to predict chaos and model how to navigate through it instead of waiting for things to happen.
The convergence of Artificial Intelligence, Machine Learning, The Internet of Things, and Big Data analytics give us advantages we've never had before in our industry.
But only if you've been maintaining your eco-systems and data integrity. Running your business off of spreadsheets does very little to support agility and crisis management.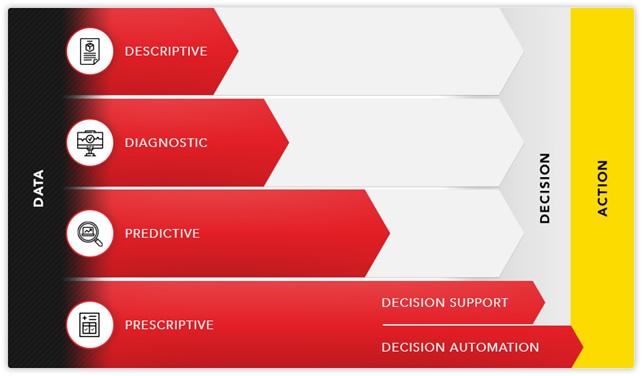 The Evolution of Data: What? Why? Will? What to Do?
Most of us are somewhere along the "what" and "why" journey. Other industries have moved beyond "will" to "what to do" when.
Eventually we will all move along the Gartner data graph. How long you choose to remain where you are is entirely up to you.
Isn't it time we all did some heavy lifting and seriously began evaluating our technology architecture instead of maintaining what's well beyond its planned shelf-life because change is expensive and challenging?
"It is not the strongest of the species that survives, nor the most intelligent that survives. It is the one that is most adaptable to change." – Charles Darwin.
How adaptable and resilient are you?
If you need help and advice in becoming more adaptable in these tough times, get in touch.
(Main image from Artificial Photography.)