I didn't try to find Augmented Reality; it just found me!
This week's theme has been Augmented Reality–All randomly
Which means to me, AR is coming of age and increasingly important
It started Monday at charity:water's UK launch. I love this American based charity. charity: water is a non-profit organization bringing clean and safe drinking water to people in developing nations. As they enter their 10th year, they have funded 19,819 water projects in 24 countries helping 6.1 million people.
At the UK launch, oculus rift was used to provide a 360 immersive experience into 13-year-old Selam's village life in Northern Ethiopia. More than a glimpse into her village and life there, you are transported; to empathize with her and her people. In the end, you feel the thrill of the water geyser rising up as the drill taps Into the underground water reserve.
Wow, who knew AR could be an empathy machine!
On Tuesday a Shea Collins, a marketing and branding colleague and I played with Interactive AR at Somo.
We manipulated objects in 3D–Pretty cool
And then Thursday I had lunch with Charly Leven of the agency Happy finish and via AR I was fully immersed in a world that few until now can understand. I could feel what it's like to be Autistic.
.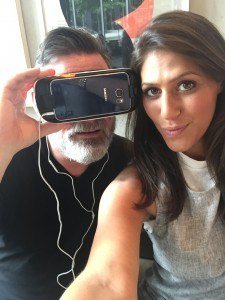 Later we romped through Rihanna's bedroom!
It appears to me that AR has finally found a use case: Immersive storytelling. AR is indeed a gateway to emotional storytelling
PS that day ended at the Worship Street `Whistle Shop were I was served—wait for it: the Augmented Martini! A dry martini with a gelatine ball that as it melts it augments the dry into a dirty martini. Ahhhh.